All sandwiches are served with fried potatoes and house sauce
Hamburgers can be ordered with:
Chianina and Fassona meat gr. 280 + € 5.00
Pollos
crispy chicken
salad, tomato, cooked ham and lime mayonnaise
Pozzuoli
hamburger 200 gr.,
eggplant parmesan, buffalo mozzarella, basil
Nerano
pork burger

 
250 gr.,
fried zucchini, cream of provolone, flakes of parmesan and basil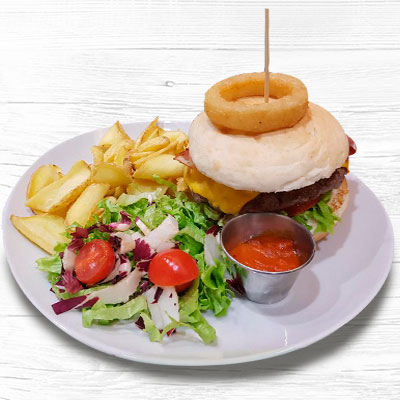 OXburger
hamburger 200 gr.,
salad, tomato, crispy bacon, cheddar, caramelized onion and burger sauce
San Gennaro
sausage
provola and broccoli
Scarrafone
hamburger 200 gr.
pomodoro, stracciatella di bufala, crema di pistacchio e patate al forno
Accussi
hamburger 200 gr.
salad, 125 gr. burrata, crunchy bacon and pepper cream
Gambero
fried shrimp sautéed in secret cream,
salad, pine nuts, tomato, rocket and ginger
Agnello
lamb burger

 
200 gr.
salad, red onion, candied pineapple and caciocavallo fondue
Chateaubriand
chateaubriand fillet 180 gr.
cheddar, caramelized red onion, black olives, salad and mustard sauce
O Polpo
roasted octopus flavored with rosemary,
bean cream, sautéed escarole, black olives, buffalo stracciatella
Il Classico di Gragnano
rolled bacon, provolone, baked potatoes
Vesuvio
sausage, provolone, broccoli
Inglesino
mixed salad, fried eggs, crispy bacon, cheese fondue and cooked ham